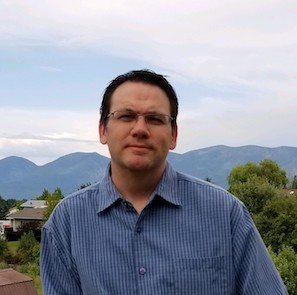 Dr. Clay Comstock
Dr. Comstock joined the faculty at Salish Kootenai College (SKC) in 2018. Prior experiences include a combined 15 years as a cancer biologist and professional editor for well-respected journals devoted to the molecular mechanisms and epidemiological aspects of cancer. His recent editorial experience has proven extremely beneficial for the mentoring of undergraduates about research design/publications, scientific integrity/ethics, and potential training/career options.
Scientifically, he has a long-standing interest in understanding how cellular organisms decode the complex myriad of extracellular and intracellular signals to elicit a biological outcome.  At the University of Cincinnati and the Sydney Kimmel Cancer Center at Thomas Jefferson University, Dr. Comstock studied the signaling pathways that influence adiposity and cancer upon stimulation with extracellular proteins or steroid hormones.
Current efforts are centered on developing novel undergraduate research projects for Native Americans in the area of environmental health science through a recently funded NIH R25 grant "Advancing Resource & Research Opportunities in Environmental Health Sciences (ARRO-EHS)" which is funded until 2025.  Specifically, Dr. Comstock is interested in understanding the contributions and mechanisms of various environmental compounds on signaling paradigms and outcomes in model systems that mimic environmental exposure. If you want to know more about research experiences in my lab group, please contact me.