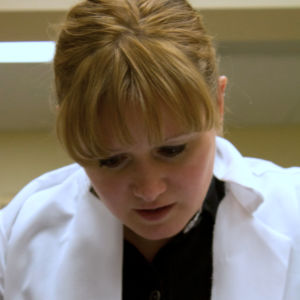 Dr. Christina Rush
Dr. Rush, the Head of the LS Department, has three ongoing projects in the SKC Cellular and Molecular lab:
Characterization of the mercury methylating bacteria in Flathead lake.

This community-based participatory research (CBPR) project examines climate-related environmental changes and the health effects of bioaccumulation of methylmercury in the ecosystem and fish on the Flathead reservation. Goals of the project are to establish sampling and microbe analysis of the Flathead lake sediments, rhizosphere and Flathead watershed areas.

The development a model of study for Hantavirus, using virus-like-particles (VPLs) to illicit an immune response stimulating human lung cells. Currently Hantavirus is a difficult disease to study as it requires BSL-4 for study. Creating a new model of study using VPLs will not only aid in the advancement of research at a lower BSL level, but will also allow for possible vaccine development in the future.

Mitochondrial proteins are crucial for cellular respiration, metabolism and have been implicated in numerous diseases including Alzheimer's. The Rush lab has begun work on the structural identification of two membrane bound mitochondrial proteins involved in Alzheimer's and mitochondrial disease.